park "LA PINETA"
municipality: CAMPI BISENZIO
Province: Firenze
Typology:
Available for:
Events of any kind, weddings, birthday parties, baptisms, communions, graduations, etc.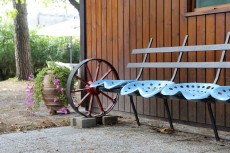 "LA PINETA" Park, location for your ceremonies and events! Inside La Spiga 1, recently renovated, there is the beautiful La Pineta park ". The" La Pineta "park is the ideal setting for a setting for ceremonies and various events: Weddings Baptisms Communions Confirmation Parties graduation Anniversary Birthdays Business dinners Private parties Various types of pine trees and plants form the backdrop to this enchanting space, equipped with a brand new wooden pergola, immersed in greenery, which can accommodate up to 90 people indoors. of the guests: BARBECUE AND CHILDREN'S PLAY AREA Possibility of using the park for the whole day Prices at La Pineta Park Year 2013 Saturday and Sunday: May and June Euro 300.00 (Only Full Day) July-August-September-October Full Day Euro 250.00 Met? Day Euro 200.00 Weekdays: (Monday, Tuesday, Wednesday, Thursday, Friday) Afternoon-Evening Euro 150.00 It is possible to request the use of tablecloths with a surcharge of Euro 2 0:00 ?.
Write a review