Prestigious villa from the early 1900s with lake view.
municipality: OGGIONO
Province: Lecco
Typology:
Available for:
sets for movies and advertisements, weddings, art exhibitions, events and parties of exception.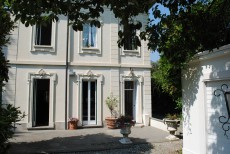 Prestigious villa of the early 1900s located in a residential area, completely redone and renovated internally. The villa, of about 450 square meters. besides a terrace on the first floor and a balcony overlooking the lake at sunset, it is set on 3 ground floor above ground and has a cellar, entrance hall, lounge, dining room, kitchen and ground floor service; atrium night, 3 bedrooms, 2 rooms, wardrobe and 2 bathrooms, one of which with turkish bath and Jacuzzi, on the first floor; living area / hallway, laundry / kitchen, bedroom and bathroom on the second floor with sloping ceilings. The property includes a large garden of about 3,500 square meters, completely automatically irrigated and with historic tall trees as well as azaleas, camellias, pittosporum, wisterias and rose gardens and a detached body which is also historical for garage use. Carrara marble and parquet floors, antique furniture in particular in the large living room. The house is very bright. The house the idea of a timeless place in sweet decadence that has lived a story. It is an ambivalent place, it can appear gloomy and melancholy and at the same time become radiant and welcoming. Perfect for artists.
Write a review